i
3

Works

Carbon Reduction Plan

Supplier name: i3Works Ltd

Publication date: 28/09/2022
Commitment to Achieving Net Zero
i3Works Ltd is committed to achieving Net Zero emissions by 2030.

Baseline Emissions Footprint
Baseline emissions are a record of the greenhouse gases that have been produced in the past and were produced prior to the introduction of any strategies to reduce emissions. Baseline emissions are the reference point against which emissions reduction can be measured.
Baseline Year: 1/5/2020 - 30/04/2021
Additional Details relating to the Baseline Emissions calculations
Baseline emissions were calculated by a third-party assessor in line with ISO 14064 and the GHG Reporting Protocol. This was the first time i3Works has measured its emissions and is therefore also the first reporting year.

Additionally, it should be noted that due to the nature of i3Works' business and COVID-19 rules in place, the company had no Scope 1 emissions during the baseline reporting year. The company had no owned or leased vehicles at this time, which would be the only potential source of Scope 1 emissions. Therefore, between 01/05/2020 - 30/04/2021, i3Works' Scope 1 emissions were 0tCO2e.
Furthermore, COVID-19 meant i3Works' was working completely remotely leading to greatly reduced scope 1-3 emissions – this should be noted for future Carbon Reduction Plans.
Baseline year emissions:
| | |
| --- | --- |
| EMISSIONS | TOTAL (tCO2e) |
| Scope 1 | 0 |
| Scope 2 | 3.88 |
| Scope 3 (Included Sources) | 7.18 |
| Total Emissions | 11.06 |
Current Emissions Reporting
Reporting Year: 1/5/2021 - 30/04/2022
EMISSIONS
TOTAL (tCO

2

e)
Scope 1
1.63
Scope 2
5.95
Scope 3 (Included Sources)
10.10
Total Emissions
17.69
Emissions Reduction Targets
It should be noted in the baseline year that i3Works was operating as a fully remote organisation during the COVID-19 pandemic. As restrictions have lifted the company has adopted a hybrid approach to working. Emphasis is given to working from home but i3Works now leases an office space and has returned to client site visits. This accounts for the increase in scope 1,2 and 3 emissions seen in the current emissions reporting and was expected.
To continue our progress to achieving Net Zero, we have adopted the following carbon reduction targets:
• We aim to achieve Net Zero by 2030; either reducing or sequestering 100% of our emissions.
• Accounting for the initial increase in our emissions as pandemic restrictions lift, we aim to reduce our CO2e emissions per capita to below our
baseline levels by 2024. We have set a target of 0.2t CO2e per capita by 30/04/2024.
• We will continue to offset 100% of our emissions with carbon offsetting projects, all of which are verified by one of the following:
Woodland Carbon Code
Gold Standard
VERRA
CER

• We are currently pursuing ISO14001 (Environmental Management Systems) and expect to be fully certified by 31/10/2021. We will continue to
maintain this certification, and our environmental management system, as the business expands

Carbon Reduction Projects
Completed/In Progress Carbon Reduction Initiatives
The following environmental management measures and projects have been from the 2020 baseline year:
• Achieved ISO14001 certification in October 2021 and implemented an Environmental Management System
• Implemented a new company wide environmental policy committing the company to the achievement of the targets set within the Environmental Management System
• i3Works has continued offsetting 100% of company emissions through investment in verified carbon offsetting initiatives
• Continued promotion of remote working, reducing business travel and energy consumption
• Implementation of an environmental policy

The following measures and projects are currently in progress:
• Provision of home-office equipment to all FTEs
• Use of a cycle-to-work scheme and electric car leasing scheme
• Donation of old IT equipment, instead of sending it to a landfill
Coming into the second reporting year we have seen an increase in total emissions (figure 1); however, this was to be expected with the resumption of normal ways of working post-COVID-19.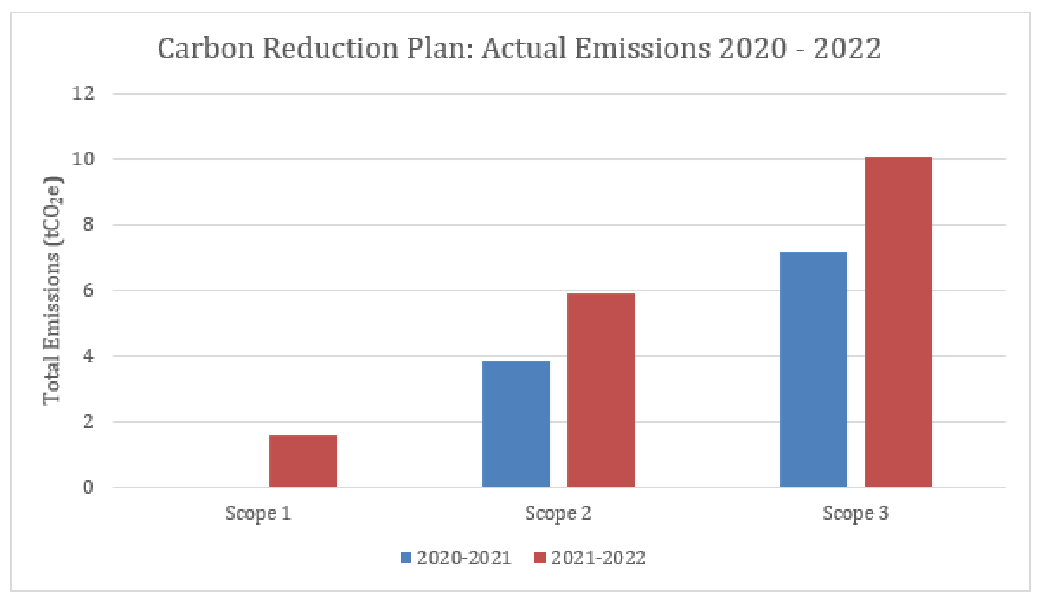 Figure 1: Carbon Actual Emissions (2020-2021 & 2021-2022)
It should be noted that there the company has seen growth in employee count since the baseline year, growing to 83 employees by the end of the 2021-2022 reporting year. This is also a factor for consideration when explaining the growth of scope 1, 2 and 3 emissions. Furthermore, this brings i3Works close to the target of 0.2t CO2e per capita by 30/04/2024 which is highlighted below:
Table 1: Emissions Equivalent per Capita (2021-2022)

| | | |
| --- | --- | --- |
| Total Emissions (2021-22) | Employee Count (April 2022) | CO2e per capita |
| 17.69 | 83 | 0.21 |
In the future, we will implement further measures such as:
• When i3Works obtains a physical office location, we will seek to power it with renewable energy sources. As the company leases an office currently implementation of initiatives has been difficult as the company that owns the building has sustainability processes in place.
• The implementation of carbon removal technology once the industry has matured and become more regulated. This is dependent on viability going forward.

Declaration and Sign Off
This Carbon Reduction Plan has been completed in accordance with PPN 06/21 and associated guidance and reporting standard for Carbon Reduction Plans.
Emissions have been reported and recorded in accordance with the published reporting standard for Carbon Reduction Plans and the GHG Reporting Protocol corporate standard and uses the appropriate Government emission conversion factors for greenhouse gas company reporting.
Scope 1 and Scope 2 emissions have been reported in accordance with SECR requirements, and the required subset of Scope 3 emissions have been reported in accordance with the published reporting standard for Carbon Reduction Plans and the Corporate Value Chain (Scope 3) Standard.
This Carbon Reduction Plan has been reviewed and signed off by the board of directors.
Signed on behalf of the Supplier:
Signed: Ben Ames
Date: 28.09.2022
Want to See Our Services in Action?




Take a look at our case studies or get in touch to learn more about how we can help your organisation.
Explore Case Studies Get in Touch