The granting of a Bronze award from the Defence Employer Recognition Scheme is demonstrating P3M consultancy i3Works commitment to supporting and furthering the prospects of ex-military personnel.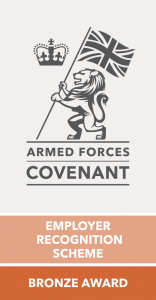 The award pledges i3Works to supporting the Armed Forces and sits proudly alongside its commitment to the Armed Forces Covenant, which the company signed in July 2019. The award promises that a company is armed forces-friendly, open to employing reservists, veterans, cadet instructors and military spouses/partners.
i3Works director Ben Ames said: "As should be expected for a company that works so closely with Defence on a number of projects, we have a history of supporting our military. We already have a couple of ex-forces people working with us, and more as associates. This has given us first-hand experience of the skills and capabilities of people leaving the services, and the impact they have made has encouraged us to actively seek more ex-military personnel to boost our ranks."
Damian Gunn, principal consultant at i3Works, is a former captain in the Royal Signals. He said: "I can't recommend the company highly enough. i3Works truly understand their staff. They extend freedom for their consultants to flourish while providing the encouragement and support of a family. Both internal to the company and external to the client, the company and its staff are always eager to learn and develop. Every day is challenging, exciting and most definitely rewarding."
If you are interested in working for i3Works, visit our careers page.